Revue de presse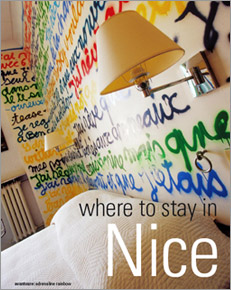 27 / 10 / 2008
AVANTOUR | ADRENALINE
rainbow (juin 2008)
"The Hotel Windsor is an arty place, with rooms decorated by contemporary artists in whacky styles."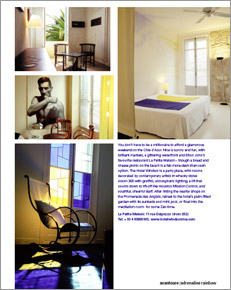 07 / 11 / 2008
WALL STREET JOURNAL
BY LANNIE GOODMANN
"Sunbathing With the Masters. The charming Hotel Windsor is an artsy, family-run hotel, located in the heart of Nice's shopping district, and packed with contemporary art."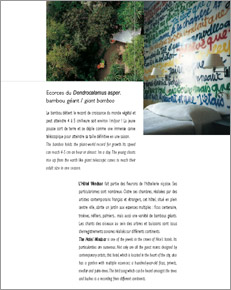 27 / 08 / 2007
NICE L'EXCEPTION VEGETALE…
Nice an exceptional flor…
"Cet hôtel, situé en plein centre ville, abrite un jardin aux essences multiples : ficus centenaire, troènes, néfliers, palmiers ; mais aussi une variété de bambous géants…"

Parus depuis 2009
Lonely planet magazine
(juin 2012): An inventive streak runs through the Hotel Windsor
Le Monde
(juillet 2011) : Chambre avec vue… sur l'artiste (Melina Gabsi)
ELLE
viajes (juin 2011): nuestro favorito del Costa azul a Niza : comodidad cheap & chic y estilo arty en pleno centro
Zeit Reisen
(Oct 2010)Die schönsten Hotels unter 100€
BELL'EUROPA
(Juillet 2010)Una specia di piccola giungla metropolitana che sarebbe piaciuta al Doganiere Rousseau
Sunday Times
(Jan 2010) The Windsor, one of the hot 100 best hotels in Europe
Paris-Bali.fr
(Jan 2010) Un rêve d'art contemporain. Un hôtel original où vous êtes sûr de trouver la chambre de vos rêves, surtout si vous êtes amateur d'art contemporain.
Space between
(Jan 2010) The Hotel Windsor is quite a scene and well worth a stay…. artist-designed rooms, lovely calm garden….
EL MUNDO
(Enero 2010)Cada habitación ha sido diseñada por un artista. En pleno centro con una relación calidad precio imbatible.
FR2daytravel
(Nov 2009) Artistic Excellence in Nice. The Windsor regularly hosts visiting musicians, actors and artists, all adding to its unique atmosphere…
The Sunday time Travel
(Dec 2009) A special place to stay in Nice without the city's grande dame price tag…
Côté Sud
(Nov 2009) L'hôtel Windsor, à vivre comme une grande maison de collectionneur avec jardin exotique en ville, garde tout le charme d'une demeure de famille qui sait évoluer avec son temps
Connaissance des arts
(avril 2009) (Elisabeth Vedrenne). A propos du reportage de Noël Dolla. "L'hotel Windsor compte 27 chambres décorées par des artistes internationaux.
Côte
(avril 2009) (par Helène Jourdan Gassin) Windsor, l'art à tous les étages / art on every floor. La dernière chambre inaugurée est signée Olivier Nottellet.
Voyage info
(par Monique Gilbert)
Renouant avec les grandes époques de la création artistique sur la Côte d'Azur, l'hôtel Windsor a donné carte blanche à 27 artistes contemporains pour que chacun d'eux décore à sa manière une des 27 chambres de l'hôtel….
VIVAT
(8 février 2009)
Un hôtel familial et luxueux : le Windsor. Depuis plus de 60 ans, la famille Redolfi est propriétaire de ce superbe hôtel situé à quelques enjambées de la mer.
Nice Travel Guide
(Sunday 08th of February 2009)
One of Nice's most eccentric hotels…
France Guide
par Philippe Bardiau
Ne pas se fier à la discrétion extérieure du lieu, "en coulisses" de la Promenade des Anglais
Littoral
A Nice, une grande demeure bourgeoise, devenue aujourd'hui hôtel, propose des chambres plus colorées les unes que les autres. Ici les artistes ont laissé libre cours à leur imagination
Madame Figaro
(22 Novembre 2008)
Dormir dans une oeuvre d'art: le bleu Touareg de Jean Le Gac
Hoosta Magazine
(20 Octobre 2008)
hotel arty à deux pas de la promenade des anglais
2006 – 2008
Bonjourparis.com
( Septembre 7, 2008 by Margaret Kemp)
The pool area, a magical tropical garden with parrots and a tag- mural along one wall has a sound installation
Nice-matin
(11 aout 2008 par Philippe Fiametti)
Les chambres d'artistes de l'hôtel Windsor : l'art contemporain règne en maître dans cet établissement où tous les espaces sont dédiés à la création. Une incroyable aventure.
Business Travel
(par Kenza Benomar)
Hotel Windsor, Nice : de l'art pour tous les goûts
ELLE
(12 juillet 2008)
Restaurant Chic " à petit prix"
Times on line
by Tania Cagnoni
Best bargain in town
Avantoure | adrenaline rainbow
(juin 2008)
The Hotel Windsor is a party place, with rooms decorated by contemporary artists in whacky styles
COSTA AZZURA 2008
Delizioso e coloratissimo…
KURB
Eté 2008
Salon d'artistes niçois
Le Mag by 24heures
(4 juillet 2008)
Ma chambre d'hôtel est un musée
Wall street Journal 07/11/08
by Lanie Goodmann(11 juillet 2008)
Sunbathing With the Masters. The charming Hotel Windsor is an artsy, family-run hotel, located in the heart of Nice's shopping district, and packed with contemporary art.
RYANAIR Magazine
(1/7/2008)
It's pot luck which room you'll get in this hotel, but each is unique, and many have been decorated by local artists. Arty, yes, camp – possibly, but the hotel is blessed with a wondrous garden where you can wolf down breakfast and plan the day.
L'internaute (juin 2008)
20 lieux insolites où dormir
Le Monde par Catherine Bezard le 22 mai 2008
Nid douillet: Hotel Windsor, une chambre, une oeuvre
L'Express Mai 2008
"En lisière de la Promenade des Anglais, la façade bourgeoise fin XIX (de l'hotel Windsor) cache bien son jeu….
ELLE Décoration Mai 2008
Chambres d'artistes
Ballade gourmande Avril 2008
Budget Travel (mars 2008)
Awesome Art Hotels
Where to stay in ?
don't despair – there are chic, affordable places to stay even in Europe's most fashionable cities
Reise magazin
(2007 Décember / Jänner)
Bewohnebare Kunst
Voyages de luxe n° 27
(octobre-novembre 2007)
Le Windsor: Musée en chambres, icône de l'art contemporain hexagonal
Désirs de voyages
été 2007
"Challenges"
12 au 18 avril 2007
par Philippe Couderc: "Chasse au trésor sur la côte d'azur… Le jardin pourrait être signé "Trénet"
Air France Magazine
October 2007
L'hotel Windsor, loin des lieux communs
Esta 27/8 9/9/2007
De verleidelijkste…kamer
Hotel and Lodge
n°32 juillet-août 2007
L'hôtel Windsor: Escale d'artistes
Articles précédents
Paris Match2 août/ 8 août 2007
Au Windsor, dormez dans une oeuvre
Nice l'exception végétale…
Nice an exceptional flor…
cet hôtel, situé en plein centre ville, abrite un jardin aux essences multiples : ficus centenaire, troènes, néfliers, palmiers ; mais aussi une variété de bambous géants…
Hoteles de diseño-
Las Habitationes de este hotel francés han sido por artistas contemporaneos. En la imagen puedes ver la propuesta de Ben Vautier (izquierda), que ha decorado una de las paredes con poemas tipo graffiti o el cuarto Jean le Gac, en tonos blancos, azules y amarillos.
Rotas & Destinos
Windsor Hotel, uma casa de artistas
Um cubo de ouro, uma l âmpada, uma cama: tudo o resto é dispensável quando apenas se procura uma noite de sono profundo.
There!-Inflight Magazine of Brussels Airlines
An artsy oasis in the centre of town, with a lush patio garden replete with tropical birds
Hotel Windsor Nice – Estilo y Tendencias
MSN Estilo y Tendencias … que ha decorado una de las paredes con poemas tipo graffiti o el cuarto de Jean Le Gac, en tonos blancos, azules y amarillos…
Le Chef
le 27 Novembre 2007 Inauguration de la chambre de Basserode
"Brigitte" Allemagne
Juin 2007
nobel und leicht verschroben, verwunschener Garten fürs Frühstück an bunt gefliesten Tischen unter Palmen und Oleander
Arts Magazine
janvier 2007
ELPAIS.com
(03/03/2007)"Graffiti' entre sábanas Artistas urbanos, escultores y diseñadores decoran hoteles europeos
Nice Matin
30 janvier 2007 (Une et Der)
à l'occasion de l'inauguration de la chambre de Noel Dolla.
Süddeutsche Zeitung Magazin
Office du Tourisme /
Nice News Hôtellerie
Le Sky Magazine de Delta Airlines
2006
The Independent
23 septembre 2006 by Alex Gorton
Ranging from the sophisticated to the mad, all the rooms are unique
Budget Travel, 2006
Secret hotels of the french Riviera
About.com, 2006
This reasonably-priced hotel features everything that makes a French family owned hotel special.
The New-York Time
Travel (8 octobre 2006) European Hotels Keep Artists Busy
L'Express août 2005
L'été azuréen de… Ben – Le Windsor, l'hôtel recommandé par Ben
BankPrivat Magazin 09/2004
Hier wohnt man wie im Kunstverein, denn (fast) jedes Zimmer ist von einem international
renommierten Künstler gestaltet worden.
48 hours in Nice
Superb value for such unique chic hotel
Washington post 26 mai 2002
That's Really Nice
BNet Business
the Hotel Windsor in Nice is a stylish exception to the rule and something of a favourite among fans of cheap chic